Frequently Asked Questions & Testimonies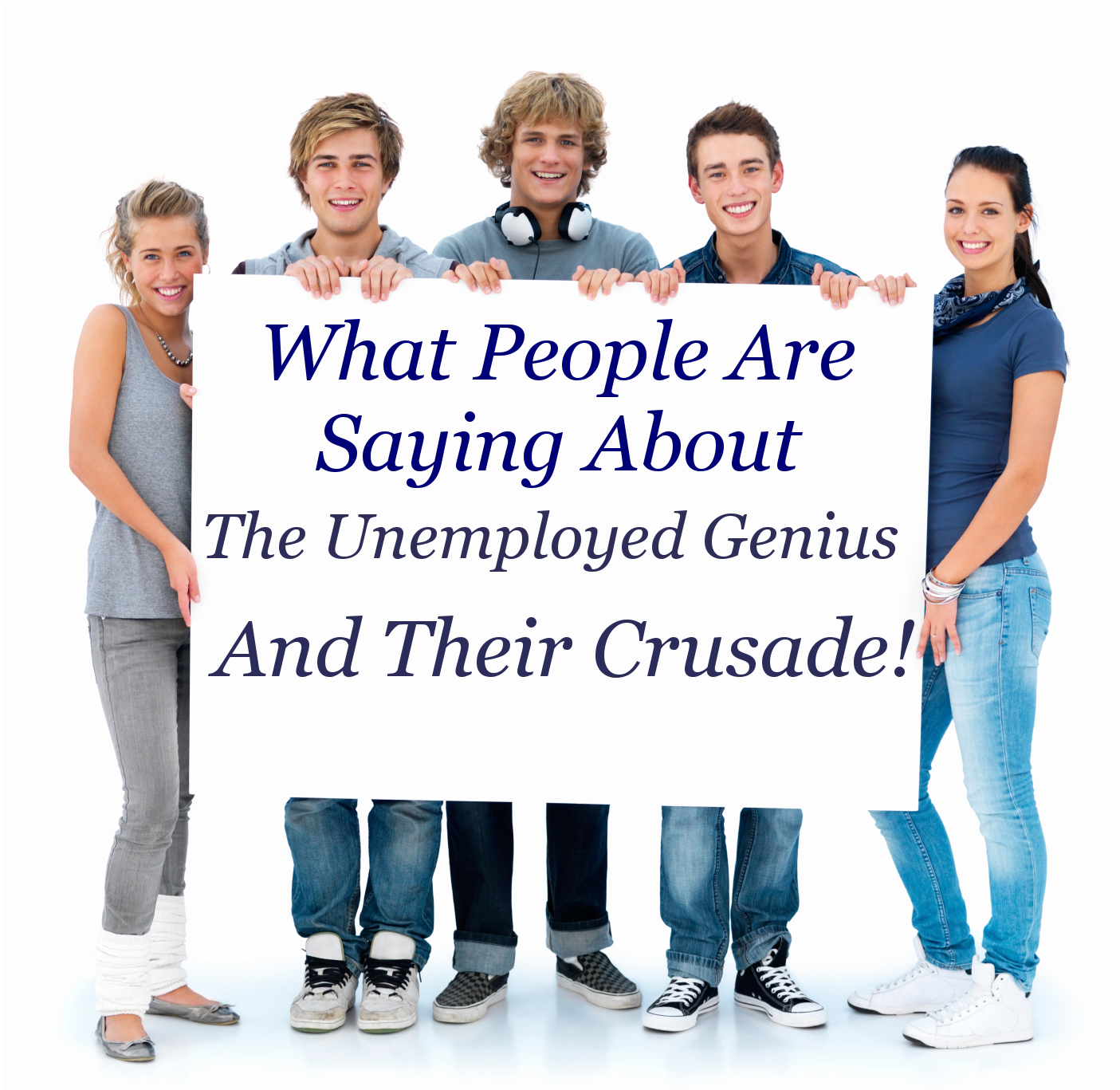 Testimonial Endorsement From Santos Rolon Jr
What is TUG, The Unemployed Genius Crusade?
TUG The Unemployed Genius Crusade is Own Brand and Model of an alternative solution structured to help people grow as an individual, Spiritually, Mentally, Physically, and YES, Even Financially.
Why Do You Call It a Crusade, Turning Into a Movement?
WOW, A Very Good Question! Because this is what we want to happen! This is our vision for TUG . To help people to achieve their dreams, goals and desires for their life. We believe we all were meant for more, much more. It offers a modern day way to develop ourselves while receiving a "Steady Cash Flow" into our home reservoirs. Our belief is, if money weren't an issue in a person's life, how differently could their life be? We understand that most people are where they are today because they "Don't Know" there can be a different and much better way to "WORK"!
We are not shy to letting you know we are building TUG The Unemployed Genius Crusade using biblical principles and direction. We take our crusade and cause very seriously! With this being said, our crusade and movement is for that person who dares to believer that now, they just may have found that alternative solution to build their Life & Futures Cash Flow for their cause and purpose!
In Jeremiah 29:11 it reads, – "For I know the plans I have for you" declares the Lord, "plans to prosper you and not to harm you, plans to give you hope and a future"
2 Thessalonians 3:10
10) For even when we were with you, we commanded you this: If anyone will not work, neither shall he eat. 11) For we hear that there are some who walk among you in a disorderly manner, "not working at all", but are busybodies. 12) Now those who are such we command and exhort through our Lord Jesus Christ that they work in quietness and eat their own bread.
Wait a Minute, I Believe I see a Resemblance of One of Those Pyramid Things???? RIGHT???
NO, (pyramids are illegal) Remind You, TUG, The Unemployed Genius is Our Own Brand and Model. Let me enlighten you. After your reviewing of TUG, The Unemployed Genius Crusade Brand and Model, (WITH) Our Affiliated Services that we intertwined ourselves with as YouTube and LiveGood, You can make that decision if we would be a good fit for each other. Our structure is really no different than that of all businesses and corporations across the globe. Our huge difference is, LiveGood rewards us from the efforts of those we invite to become members to save on their nutritional needs. WE are rewarded for both the people we invite as well on those they invite. Recognize, an employer won't even consider that! You may invite someone or two to come work along side you at a place of employment and never see a penny for doing so, let alone the people they may invite to have a job. That is the real scam my friend! More on that in another post.
What Kind of Work Would We Be Doing?
Our concept is, we would be "working" on our own agenda for our own life. Each one of us are a different person. We believe we all would have something we truly would love to accomplish with our life. Most people feel they lack the resources including the income and time to accomplish this. With our vision and our purpose to help others to become an improved version of themselves, the financial wellness that could be created by inviting others to take part in our crusade movement for their cause, together we all can go after and bring our own vision, dreams into reality! Would this make sense? It truly should be simple to understand. For those who want to just save on their nutritional needs we both win. For those who choose to do both save and share that membership is again, a win, win for both. It's all about the choice we make for a $9.95 monthly membership fee, with a one time $40. affiliate registration fee "IF" a person chooses to earn a real nice lucrative passive income for simply inviting others to review our possibilities for their life! Fair enough?
Page still under construction More is coming, Stay Tuned